Testimonials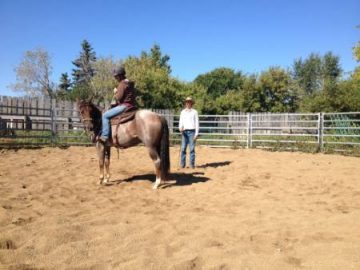 I have come out of this clinic with confidence. I bought this 3 year old and was gonna sell her as she was flighty and she had bucked me off. She is a smart horse and I was going about things all wrong. I enjoyed the clinic so much and all the accomplishment's we gained that I had asked Stephen to host another clinic!! I have learned so much and Stephen is so good with horse's!! Thanks Stephen so much for your time!!! I will be back for some riding!!!!!
– Tricia Oneschuk
---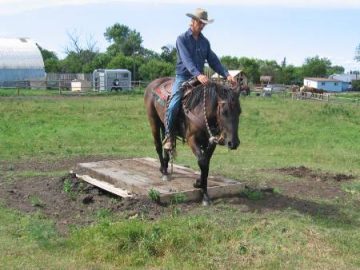 I was at the clinic September 6 and 7 to audit. Stephen always went the extra mile with each horse and student. He always put safety for student and horse first. The integrity that was practiced along with patience, kindness and respect was very evident. Stephen's ability to listen and read his horses was such a pleasure.
---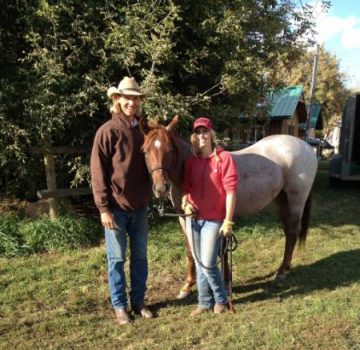 I had such a blast at Stephens clinic! I think what everyone really wants and needs is to feel safe and at home on their horse and thanks to Stephens training methods and his patience and I now have that with my filly! I loved the desensitizing and how light we got Sami to feel! We will be back in the spring to get the first couple rides on her!! 2 thumbs up and one big grin!
– Miranda Towe
---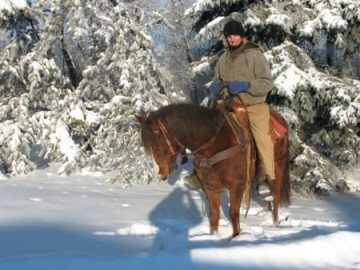 Stephen shows great patience with both the horse and owner. He was very interested in keeping me abreast of the work he had been doing with Belle and was more than willing to take the time to show me in detail me what he was teaching her. He uses nonviolent horse training methods which lead the horse to accept a variety of situations. Although Stephen had my horse through the coldest months of the year (December through February), he did his best to get Belle out of the arena when the weather was not too severe. When Stephen began working with Belle, she was very soft to work with, and when he was finished she was the same way. Thanks again, Stephen!
– Geraldine Collins (Vermilion, Alberta)
---
I contacted Stephen because I was looking for a new horse and I had heard many speak positively about his training methods, so I trusted that he could assist me in the process. I have ridden all of my life and I told Stephen I was just looking for a horse to use mainly for trail riding that was reliable and honest. He told me he thought he had a horse that would fit that profile that I should come and check out. He was an 8 year old quarter horse named Hancock. I fell in love with him right away…after one ride he seemed very well trained, responsive and good minded. While taking the test ride Stephen helped me to get to know the horse and gave me wonderfully helpful tips on how to get the most out of Hancock. So we made the decision to purchase Hancock and we could not be any happier that we did:)
All that Stephen told me about this horse was true. He is good minded, reliable, and an overall wonderful horse for trail riding or whatever else I may eventually want to pursue with him. He has a gentle heart and listens so well. I am fairly experienced and have ridden many horses and I can honestly say that he is very well trained. He is so responsive and is always waiting for the next cue from his rider. We have trailered him, had his feet done and ridden him through water, up hills etc and he has been wonderful.Stephen even checked in after the purchase to see how things were going which I really appreciated!!
I always say that when looking to buy a horse it is very important that you trust the person you are purchasing them from to tell you the truth about what kind of horse they are. Stephen sold me a horse that was exactly what I told him I was looking for and he has turned out to be exactly what Stephen said he was…or even better!!! Thanks so much Stephen:)
---
This clinic was truly an amazing experience. Stephen is a phenomenal clinician, and really takes time to make sure that each participant understands his method and training techniques. He has helped me with issues that I have seen in my gelding since I purchased him 2 years ago. I learned so much about proper ground work and foundation, and how to build on that to make your ride safe and successful. You learn so much from watching him teach the other participants, that it would be worth it to come and audit one of his clinics. His method of training is simple, and best of all it WORKS. Stephen has helped me gain confidence on the ground, as well as in the saddle. I will definitely be a returning customer! Thanks Stephen!
– May Long 2015 Horse Clinic
---
I brought a 3yr old mare to Stephen in the spring of 2008 and he put 2 months on her for me. I was impressed at how responsive she was after just this much time. I also liked how quietly she stood while mounting and dismounting. She would stand patiently with the reins dropped in the middle of the corral while we adjusted the saddle and picked up her feet. When I got her home she was more than willing to cross the river and go through the bush. Stephen has a quiet easy way around horses and enjoys what he is doing. He was more than willing to answer any questions I had and spend the time with me showing me the cues he used while working with my horse.
– Sharon Fanthorpe (Marwayne, Alberta)
---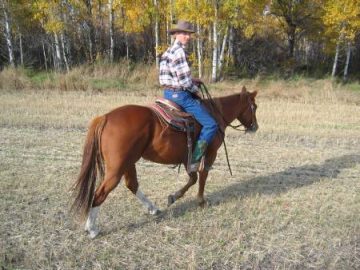 What I liked about Stephen is that he put on miles on the horses he trains and takes them through all kinds of different elements and terrain. I was pleased with my mare on how soft in the mouth she was. I would highly recommend the two months or more with Stephen, definitely made the difference.
– Norm Namur (Lloydminster, Alberta)
---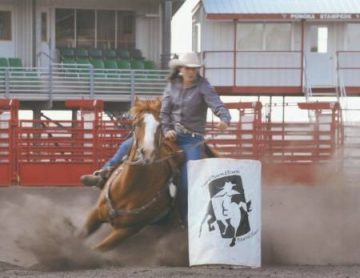 We bought Copper from Stephen a year and a half ago (2008), and we have been extremely pleased with her. Stephen gave her a wonderful foundation to work from. She is extremely willing and calm to work with, she doesn't spook or shy. My daughter uses her for everything, she is extremely cowy and athletic. About 8 months ago she started working with her on the barrel pattern, and she is now a solid 1D barrel horse. We highly recommend Stephen's training, as he has given Copper a good solid foundation to work from. I am very impressed with his calm work ethic with the horses, and the time he puts into them. Copper is proof of that!!!
Hi Stephen, Hey just wanted to give you an update on Copper…..On the august long weekend (2009), Caitlin and Copper were in the Turn$Burn$Earn$ finals at Ponoka…and they won!!…. they did really well, they actually placed 1st, 3rd and 5th in the 1D….all three of their runs were winning runs. Overall out of all the 858 runs of the weekend…they had the 12th fastest run!!! Next week we are at the ABRA finals…we will let you know how they do!!!
– Annette Stark (St. Paul, Alberta)
---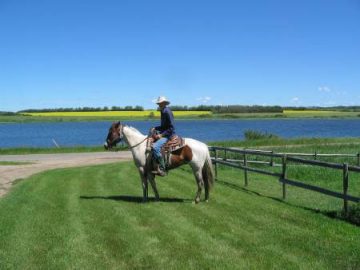 Stephen is a quiet young fellow with a very happy personality. This is reflective in his training methods with horses. I was very happy to get my horse back after only 45 days of riding with Stephen. I was able to ride him back home over 6 miles with no concern whats so ever. I was very comfortable sitting in the saddle riding my own animal that had never been road before. Stephen does a good job starting these young and older horses! Good job Stephen!
– Randy Whelan (Marwayne, Alberta)
---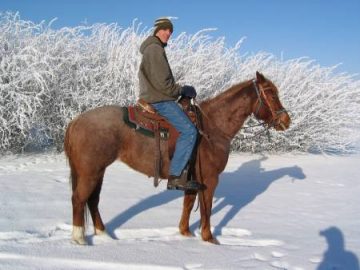 Stephen has started a couple horses for me in the last few years. He does an excellent job and they come back in great shape and quiet. They have no buck or spook in them and they are ready to take to the arena and get to work on. He has also worked with a problem horse that we bought that had a lot of buck in her. When I got her back after just a month with Stephen she was a totally different horse. He does a good job and I recommend his training methods to anyone that has a horse they need riding on or started…Thanks Stephen.
– Elaine Scott (Lloydminster, Alberta)
---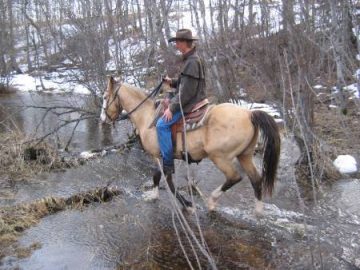 I purchased "Bandit" in early spring 2009; it was one of those impulse purchases that I loved and never regretted. This spring the snow was extremely deep and I never had a problem moving him through, up to his chest. Yes it can be -23 C outside and snow that is four feet deep and I am still one to ride.
He is a beautifully trained animal that had the drive I was looking for. Whether it was heading into Muriel Lake, going into Bonnyville, or going over the bridge at Jesse Lake he has never let me down. His training was extensive enough that when I wanted to move him ahead he was pleasantly soft and responded well. He round pens lovely, moves so well off leg pressures that no bridle would be necessary. I have had people from intermediate to jockey status ride him and they have all loved him. From cattle, trail riding, 4-H, and reining he's exceptionally responsive. He's a pleasure personality wise, and his training makes him gentle to handle in new or difficult situations. If he is unsure or if he spooks it's a small response and not one that will move out from under you.
I would highly recommend any of Stephen's horses, in that he seems to understand them really well. They are soft to pressure, know their round penning, and handle new situations or objects with ease. I would not hesitate to purchase another animal from him.
– Debbie Waterfield (Bonnyville, Alberta)
---
I am an Equine Dentist who travels the entire province of Alberta doing dental work on horses and mules. My whole life has been centered around horses, and as a younger woman spent many years in the saddle training good reining horses.
It has been a matter of grave concern to me to look around these past few years and see that we have a serious shortage of good horse trainers in Alberta who are training for the public. There are a lot of 'wanna bees' and some who look at horses as 'tools' as a means to an end, and use them that way.
The really good horse trainers are breeding and training their own horses and selling them for a small fortune.
I had the pleasure of meeting and getting to know a young horse trainer in the Lloydminster area a couple years ago. Stephen Braun is a quiet, sincere man who is passionate about horses. He loves them and truly enjoys working with them. I have seen him work horses a number of times and I like the way he gives them time to think. He keeps them quiet under saddle with his patient approach. Some of these horses are a 'hand full' when they come to him, but he always wins their trust and willing affection.
I wholeheartedly recommend Stephen Braun to anyone with horses they love and want kind treatment for. Your horse is like a human baby. He can't tell you that his trainer is mistreating him behind your back. Stephen is the man I would want training my horses. He is as honest behind your back as he is to your face. He gives each horse the same consistent love and care, not favouring one above the other. Your horses are in safe, kind, capable hands when they are are trained by Stephen Braun.
– Margaret E Rougeau EqD (Ponoka, Alberta)
---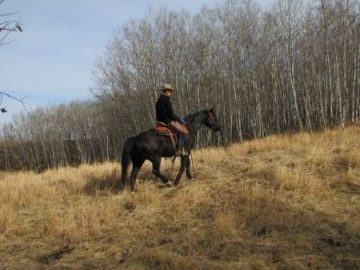 I have been involved with horses for the better part of 15 years. Our family has not had many horses as we try to make good decisions with the horses we purchase and keep them for the duration of their life. Most of the time it has worked out well but, there has been the occasion where we thought we were getting something but, after getting the horse home found out that there were holes in it's training.
Happily, we have not found no such problem with our purchase of, "Zipponita Boots" from Stephen. Boots is a rising 5 year old gelding and was started in training with Stephen in his 3 year old year. He is as solid as they come, with an amazing people loving temperament. Just what I was looking for! Stephen has the ability to match his horses to the right people for sure. I would not hesitate to recommend Stephen to anybody who is looking for a trainer with sensitivity and the where-with-all to do a good job. Thanks Stephen.
– Lillian
---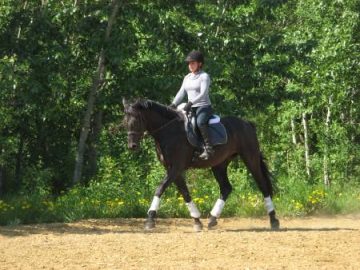 Stephen was highly recommended to me by my equine dentist. I told Margaret about a bad experience my lovely 3 yr old warmblood gelding had with a trainer and that I needed to find a trainer who was patient, not scared of him and could build his confidence back. She told me about Stephen so I called him.
Stephen took Bouncer through the winter months 2011. Stephen sent me photos and weekly emails about his progress and I felt reassured that my horse was now on the right track. After getting some basics in the round pen, Bouncer was out riding in the fields, down the snowmobile tracks and the road (the snow was very deep this winter). When I visited Bouncer he was relaxed, willing and enjoying the work, and I could see Stephen was good with horses. Stephen has fun introducing new things to the horse and he pays attention to feedback the horse is giving, allows the horse time to process instructions, lets the horse make mistakes and rewards him for trying.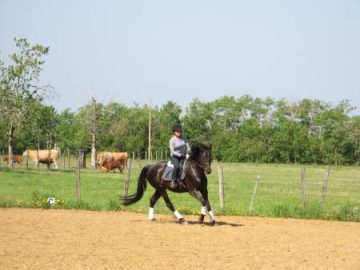 Stephen showed me his working routine with Bouncer ; the horse didn't need lunging before each ride, he lowers his head to be bridled, he stands quietly to be mounted, he moves forward and comes back easily and softly. When it came time to bring Bouncer home he was worried about hitting his head on the trailer; Stephen spent over an hour with me patiently allowing Bouncer to discover that it was safe to get on and off quietly. The next time I loaded him on the trailer there were absolutely no issues!
Since bringing Bouncer home at the end of March, I've thoroughly enjoyed riding him (never felt unsafe). We go to different places and he looks at new things with curiosity not fear; he has the confidence to trust me when we encounter something new and go forward. This is a sensitive horse and he could easily have become unmanageable in the wrong hands. I cannot thank Stephen enough for turning Bouncer into a soft and willing partner. Now Bouncer is ready to begin his dressage training and I love that I can still take him out in the field or down the trail !!!
Just a quick update with photos! Bouncer is doing great as he gets stronger and more balanced. He goes 3 days a week and remembers his new lessons for the next time. This seems to work and his little brain doesn't get over-loaded …. he is relaxed in his work. Regards.
– Angela (Sherwood Park, Alberta)
---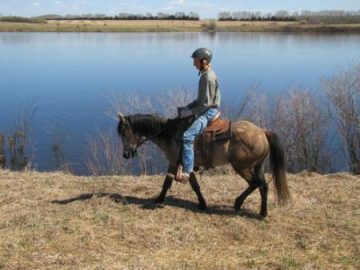 Stephen started my 3 year old filly for me; I was very nervous because I have had unsatisfactory results with other trainers in the past. He was very good about keeping me updated on her progress, sending photos etc…. I am extremely pleased with the results. She is very soft, trusting, and calm. She has kept her upbeat friendly personality and has not developed any bad habits or vices. I would highly recommend Stephen for anyone looking for a solid start and foundation on their young horses. I will definitely send horses to Stephen in the future….It was a very positive experience!
– Jacquelyn Wollmann
---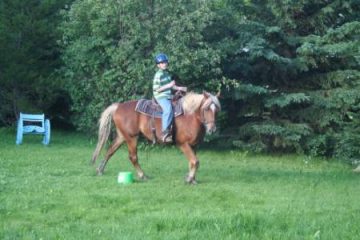 Hi Stephen, An update on Punch. It's been a busy month! We're happy to say that Punch has fit in well with our family. He is very well-behaved in the mountains – not too high spirited, but doesn't mind going straight up. He seems to be a natural at climbing and leaping up the steep slopes. Mike was very impressed with his disposition. The first ride we took him on was in a lot of bog and he lost a shoe right away, but later that night, he let Mike hammer on a shoe with no problems at all. The day after we got Punch, our two youngest were on his back bareback while he ate grass on our lawn.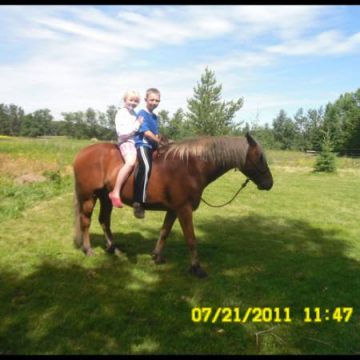 We've all taken turns riding him and he's been great! Our friends make fun of his "chainsaw" snort that he does when he's not sure of something, but he hasn't spooked on the trail yet. He wasn't sure of the highline on his first night on the line, but soon got used to it. He's already been to the highest peaks at Ya Ha Tinda, and no problems at all. My husband has fun on him in the river – running through and splashing the other riders! When we were at Ya Ha Tinda Ranch, we even had some people stop at our fire to look at Punch because they had seen him on Kijiji and were going to look at him, but he was sold! I think that Punch and Ty will be a great match. We're hoping to have Punch in 4-H this year. Thanks for your work on Punch! Join us in the mountains some time!
– The Harink Family
---
I sent my recently purchased 4 year old mare to Stephen to help her work through some baggage issues from a previous trainer. She was very reactive and spooky and seemed to be stuck in 'panic mode'. Stephen had her for 45 days and when I picked her up she was a completely different horse. She thought about everything instead of just spooking immediately. She was calm, relaxed and very willing! Stephen did a wonderful job of putting her head into her work and got her completely out of 'react' mode. I can now jump off in the middle of a ride, drop the reins and she calmly stands there waiting. Her head has dropped and her eye is soft. Stephen was gentle and patient with her so she retained all the spunky, quirky personality traits that I love; just now interwoven with a beautiful softness and trust in humans. I also loved that Stephen took the time to give me a 1 on 1 lesson the day I picked her up, so the handover was complete and clear. Stephen, thank you so much for giving me a safe, reliable, and HAPPY horse back!!
– Meredith
---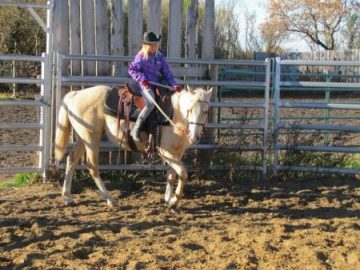 I took my 3 year old gelding (Buddy) to Stephen in the fall of 2013, with hope that Stephen would turn him into a kids horse. After the first week, Stephen emailed and told us that he had been out riding him already. After the first month, Stephen invited us out to see Buddy's progress. Stephan had already rode him 25 times! I also rode Buddy after the first month, and my 9 year old daughter was lead on him. Stephen took the time to show me his techniques and explain things to me. After 60 days, Stephen emailed and said that we were welcome to take Buddy home and keep riding him. Buddy would not need the last month with him. I really appreciated Stephen's honesty, after all we had signed up for three months of training. When we went to pick up Buddy, my 9 year old daughter rode him with no issues. Buddy came home in great shape and is a pleasure to ride and work with. Stephen did an amazing job with our horse and we highly recommend him.
– Rory Wenger (Hillmond, Saskatchewan)
Thank you so much Stephen for an amazing clinic(April7th/8th Groundwork Clinic 2018). You are without a doubt a great trainer and coach to us humans. The knowledge and techniques you shared with us will go along way to helping us be more confident and safe working with our horses. Thank you again, looking forward to doing another clinic with you.
Carrie Feniak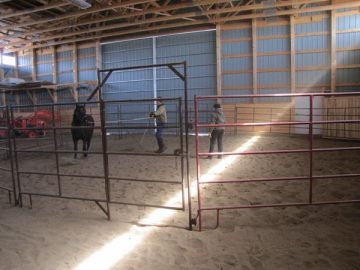 ---
References
Feel free to contact people about my training. All satisfied customers.
Margaret Rougeau
Equine Dentist
(403) 783-9821
_____________________________________________
I have completed my second clinic with Stephen. My first was in 2017 and second in 2019. I can't say enough about Stephens's knowledge of horse training and the gentle way he deals with the horse and owner. He takes both from wherever they are to where the owner understands their horse and the horse understands their owner so they can both work together in a safe and enjoyable manner. I have/had 2 horses that were difficult to manage at anything over a walk. One of these horses was with a beginner rider. The confidence, knowledge, and ability of this young person grew throughout the clinic. After several days with Stephen both horses and rider are a lot calmer and able to build on the foundations Stephen laid down. I appreciate the low numbers he has at his clinic and the personal input into every rider and every horse. I highly recommend him. Just wish he lived closer but definitely worth the travel time.
Dave, Grande Prairie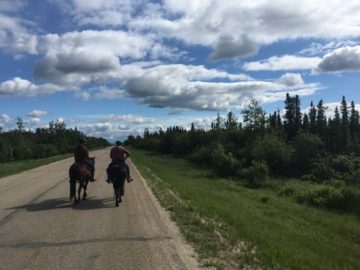 My husband and I took both took Stephen's clinic. We brought our 3 yr old unstarted gelding and a 5 yr old trained mare. Stephen with our 3 yr old showed how passionate he is about colt starting and training. We would not hesitate to have him train anyone of our horses. In fact he will be next spring! The clinic itself was fun and educational. We highly recommend Stephen as a trainer and clinician. – Kimberly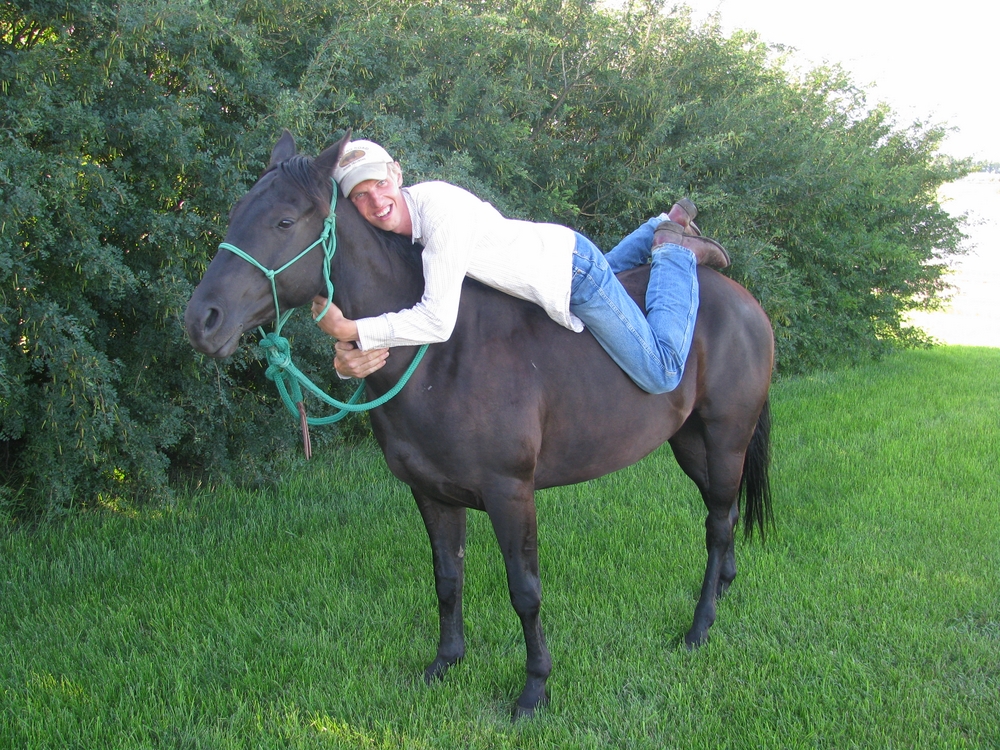 I have attended two clinics. Both my horse and myself have gained a greater trust between us, a better understanding of what to do and what not to do, how to avoid a wreck while out riding and a greater love for my horse. Thank you Stephen. Chris